[metaslider id="10320″]
antiAtlas of borders
The antiAtlas of borders is a group of researchers, artists and experts. As they articulate research and artistic creation, they attempt to apprehend in a unique way the mutations of borders and spaces of our contemporaneous societies.
Our website is a platform monitoring and communicating on events, publications, articles, news and artworks addressing the mutations of 21st century borders. It presents our actions: the conferences, seminars, exhibitions, expérimentations and a series of documents: papers,videos (seminars, conferences, interviews) and a list of reference works.
Coordination
Cedric Parizot – anthropologist of politics at the Institute for Research and Study of the Arab and Muslim World (UMR7310, Aix Marseille University, CNRS).
Jean Cristofol – philosopher, former lecturer at the Higher School of Art of Aix en Provence and member of PRISM research unit (Perception, Representations, Image, Sound, Music), Marseille, and president of the association antiAtlas Editions.
Design
The design of this website has been created by Thierry Fournier, artist and curator, involved in several editorial projects about contemporary art and research in art.
Members of the collective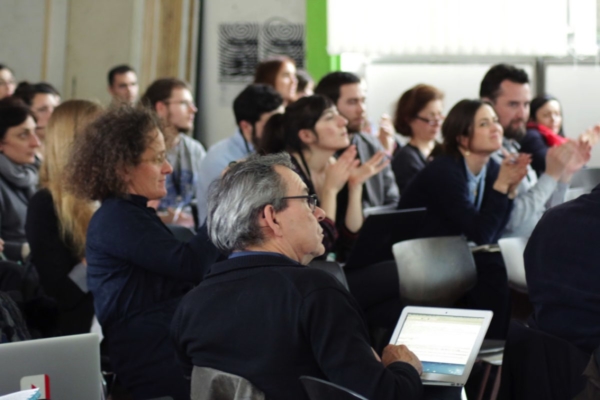 Anne-Laure Amilhat Szary – géographe, Head of Pacte (UMR5194 Grenoble University, CNRS)
Isabelle Arvers – artist, independent curator, Marseille
Camille Boichot – geographer, Géographie-Cités (UMR 8504), CNRS, Paris
Myriam Boyer – graphic designer , photographer, Aix en Provence
Thomas Cantens – anthropologist, Centre Norbert Elias (EHESS), Marseille, Head of research unit of the World Customs Organization, Brussels
Thierry Fournier – artist et independent curator, artistic direction and design of the sites antiatlas.net and antiatlas-journal.net
Jean-Paul Fourmentraux, sciences of art, sociology and communication, Centre Norbert Elias, EHESS, Aix Marseille University
Anna Guillo, plastic arts plastiques and science of arts, Laboratoire d'Etudes en Sciences des Arts (LESA, EA 3274), Aix Marseille University
Federica Infantino – political scientist, Free University of Brussels
Clémence Lehec – geographer, Associate researcher at the University of Geneva and the Laboratoire Pacte (UMR5194 Grenoble University, CNRS)
Nicola Mai – film maker, anthropologist, Professor of Sociology and Migration Studies, Kingston University, United Kingdom
Sarah Mekdjian – geographer, Pacte (UMR5194, Grenoble UNiversity, CNRS)
Joana Moll – media artist, Barcelona
Paul Emmanuel Odin – art critic, La compagnie, Marseille
Laurence Pillant – géographe, TELEMME, CNRS, Aix Marseille Université
Gabriel Popescu – geographer, Indiana University, Southbend
Antoine Vion – sociologist, economist, Laboratory of Work Sociology (UMR 7317, AMU/CNRS), Aix-Marseille University
antiAtlas-Journal.net
Thierry Fournier also designed the antiAtlas Journal website, the journal of the antiAtlas collective, created in 2016 with Papascript. www.antiatlas.net and www.antiatlas-journal.net offer a diptych dedicated to the same research, the former for the collective activities and the latter for its publications. Their designs are related but offer different layouts, reflecting their specific contents.
Digital, bilingual and in free access, the antiAtlas Journal opens an exploratory editorial space dedicated to a radical transdisciplinary approach to contemporary borders. As an extension of the antiAtlas of Borders project relying on a collaboration between researchers and artists, it experiments new methods of editing and of modelization of research. The editorial directors are Cedric Parizot, Anne-Laure Amilhat Szary and Jean Cristofol. Its content is available online (desktop, tablets and mobiles) and in PDF format.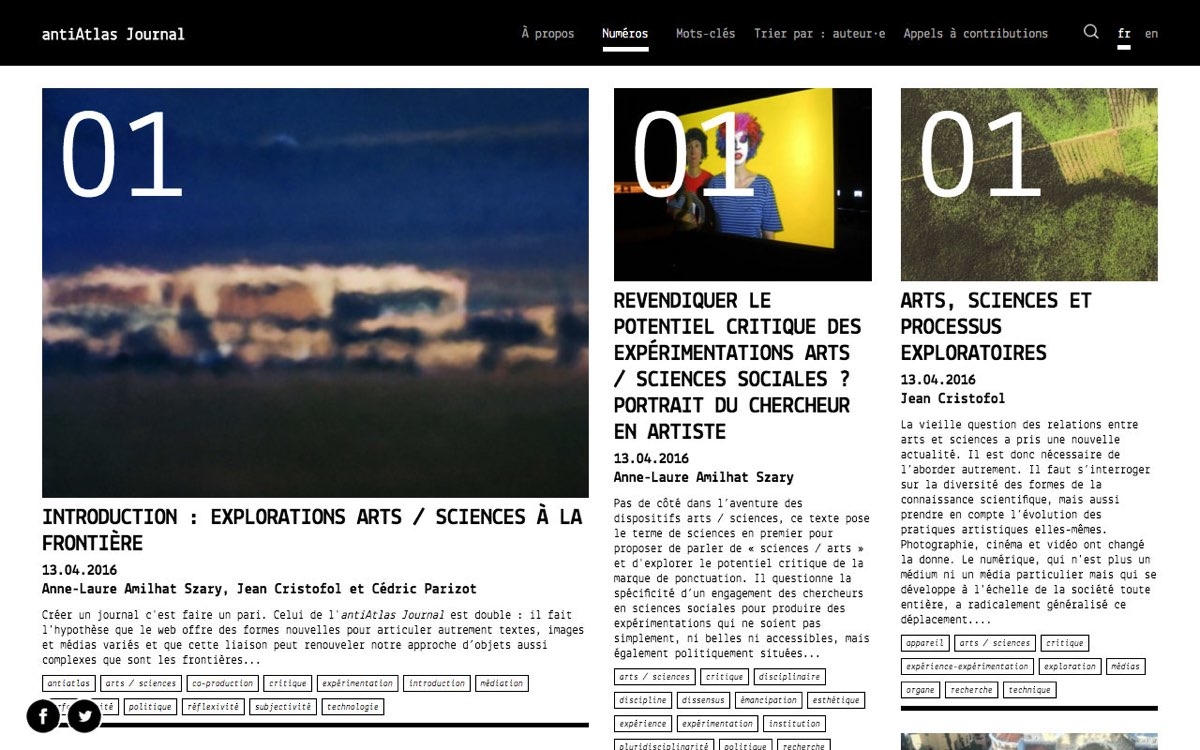 By opening up multiple proximities and circulations between text and image, antiAtlas Journal enables transversal trajectories and varying levels of perception that a linear organisation does not permit, though a linear pdf version will also be available. Very large images will extend beyond the screen: exclusive circulation within the images and media becomes one form of lecture, similarly to the way we move within a text.